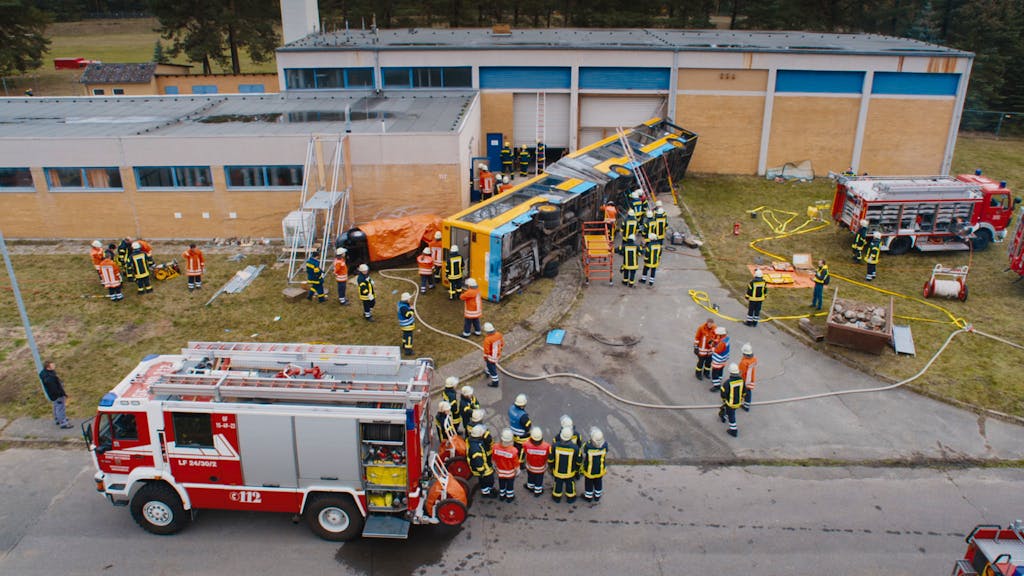 !!! Online premiere 26.March 2020 !!!
Click here: http://www.kino-on-demand.de/ or http://vimeo.com/ondemand
Master Of Disaster conjures up an insane parallel version of The End, a study of the downfall of our society. A film between reality and its enactment.
The film focuses on the world of disaster management presenting a bizarre picture of contingency planning and bureaucratic control experiments. On an almost weekly basis in Europe, a range of both minor and major disasters are rehearsed: power cuts, widespread flooding, nuclear meltdowns. They range from training exercises for the local fire brigade to large-scale enactments across several states and involving 10,000 volunteers or more. In the company of the main protagonists, we delve into the most Kafka-esque aspects of these fantastic, fictional worst-case scenarios.
In high-security laboratories, in public authorities' offices and simulation centres or in major insurers' glass palaces, disasters are designed and evaluated in all their variety and detail. And for good reason, since the slightest upset in our modern, complex and interconnected world can lead to a disaster of almost Biblical proportions, causing a chain reaction which could plunge half of Europe into chaos.
With its ironic approach and the staging of global disasters, Master of Disaster is a darkly humorous film for a European audience, amusing and illuminating in its view onto a bizarre parallel world – but also disturbing in regards to the realistic backdrop of these scenarios.
Further information on our german website: http://masterofdisaster-film.de/
Buy
Festivals
premiere: DOK.fest Munic category DOK.deutsch
Credits
Director: Jürgen Brügger & Jörg Haaßengier
Producer: Thomas Tielsch
Production company: Filmtank GmbH
Coproduction: MiraFilm, Zurich, ZDF/3Sat, Swiss Television/Schweizer Fernsehen SRF
Coproducer: Vadim Jendreyko
Director of Photgraphy: Sven O. Hill, Philipp Künzli
Editing: Annette Brütsch
Screenplay: Jürgen Brügger, Jörg Haaßengier
Composer: Daniel Almada
Sound designer: Daniel Almada, Dominik Awenvedde
Production manager: Jan-Peter Heusermann
Funded by: Film- und Medienstiftung NRW, FFHSH, BKM, Media Slate, Bundesamt für Kultur, Züricher Filmstiftung