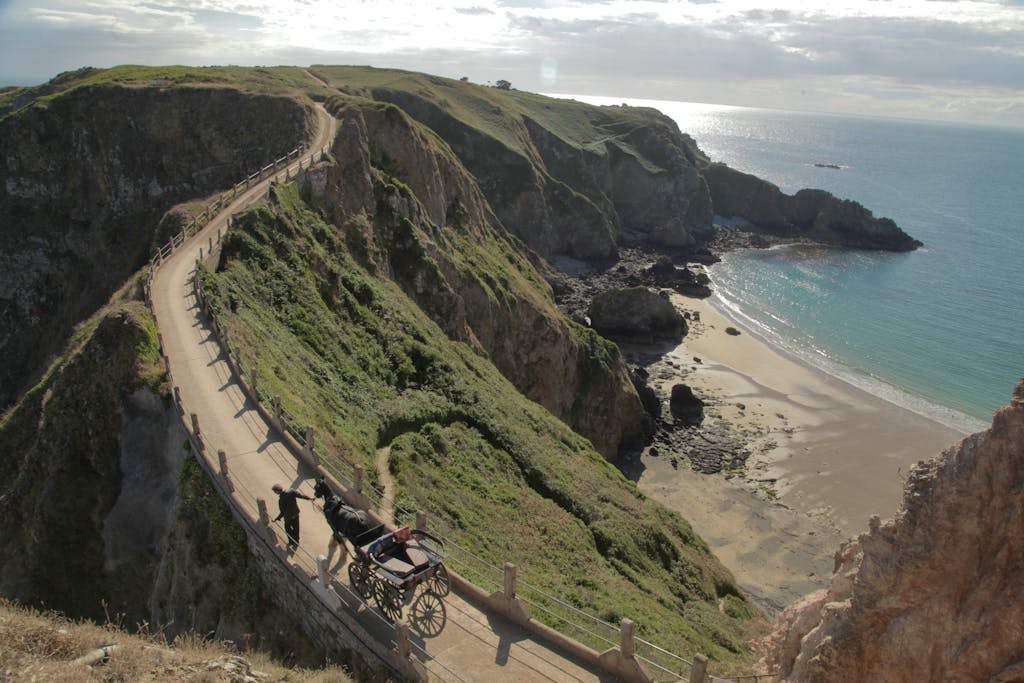 The island of Sark, situated off the coast of Normandy, was Europe's last feudal state, and a British Crown possession. The 600 inhabitants used to live their lives at their own discretion, and in harmony with their surroundings. Life was simple and regulated by gentleman's agreement rather than by law.
However, in the past years a new authority has infiltrated the island. Two billionaires began buying up the island, laying out vineyards and buying four of the six hotels. By now hold leases on a third of the land. The island's parliament is trying to counter these acts. However the investors are able to employ their considerable wealth to pull out all the stops. What begins as a unified response by the islanders, develops into an internal conflict, splitting the community into rival factions. Some residents see the developments as an opportunity to attain new prosperity. But are they aware of the real interests behind the investors' plans to modernize?
By following the development of this conflict, the film sheds light on the politics of international finance capital and poses not only fundamental questions about responsibility and democracy, but also about what it is that makes life worth living.
D 2018
91mins.
Produced by FILMTANK
Coproduced by WDR
Commissioning editor: Jutta Krug
Funded by
Filmförderung Hamburg Schleswig Holstein
MFG – Filmförderung Baden-Württemberg
BKM - Die Beauftragte für Kultur und Medien
Currently in the following cinemas:
Achern Kommunales Kino Tivoli
Festivals
DOK Leipzig 2018
Credits
Written and directed by Bettina Borgfeld
DoP: Marcus Winterbauer, Bettina Borgfeld, Börres Weiffenbach
Editing: Franziska von Berlepsch, Mechthild Barth
Music: Daniel Sus, Peter Gabriel Byrne