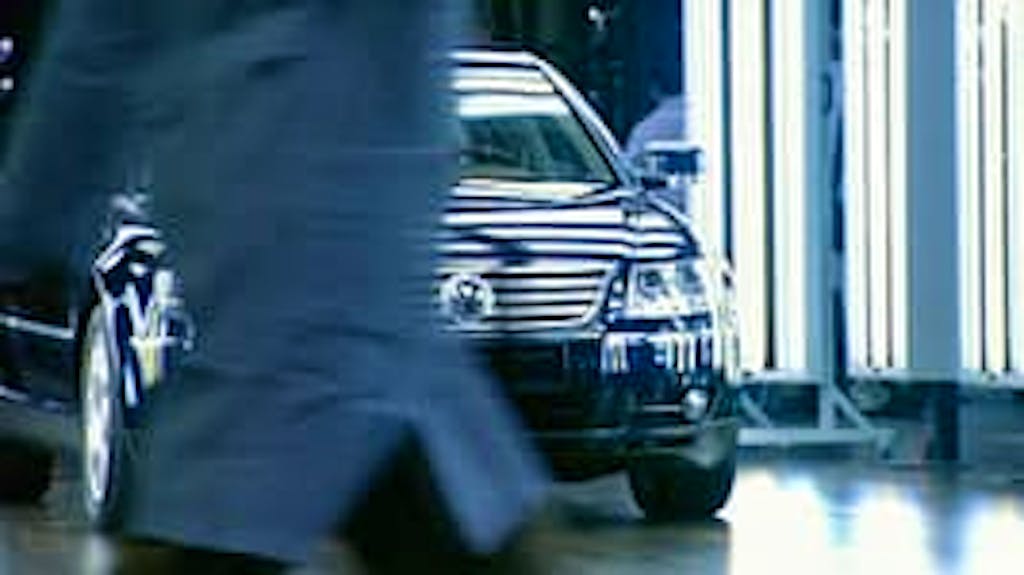 In the middle of Dresden, the Volkswagen Corporation has established an enormous "transparent factory" in which luxury sedans (Phaeton) and SUVs are assembled before the eyes of the waiting buyers.
The purchase of a sedan is staged as a ritual in a package with a cultural program and a tour of the city.
What is especially fascinating, apart from the city planning and market-strategic aspects of this project is that, for the first time, a corporation lays a breathtakingly open and aggressive, sovereign claim to the design of public space. A brand no longer appears as sponsor of cultural production and events in it's own interests, but stages itself and it's product as a part of high culture in the open theater of the city. A factory (and with it the brand) returns to the historic urban center as a sightseeing attraction on a par with a baroque residence.
Thomas Tielsch und Niels Bolbrinker followed the development of the factory construction site from April 1999 until the opening ceremony. The film shows how this innovative architectural and strategic project is positioned in the existing social and spatial context of the local residents. A highly formulated design concept collides with the organic neighborhood structures like a UFO landing in a petty bourgeois, herb garden. The neighbors guide us through their differing environments and ways of thinking, accompanying the project's genesis like a chorus of many voices.
Buy
D
2003
83 mins.
35mm
Festivals
Max Ophüls Preis
Credits
Written by: Thomas Tielsch und Niels Bolbrinker
Directed by: Thomas Tielsch
Director of Photography: Niels Bolbrinker
Montage: Tielsch/Bolbrinker
Music: Uwe Krause
In co-production with ZDF and Next Film
Funded by FilmFörderung Hamburg and MDM Leipzig