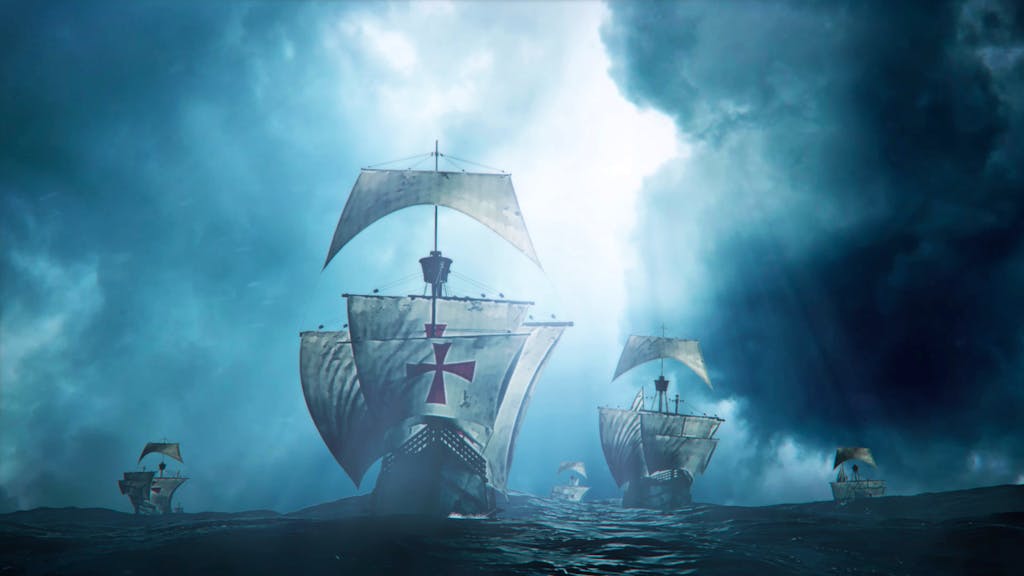 Ferdinand Magellan and Francis Drake were no adventurers at all? But what did the two circumnavigators do instead? Two of today's researchers search through the archives, trying to reveal the true purpose of the missions of Magellan and Drake. They reinterpret old and new sources. The result of this profound, documentary search for traces: Both explorers were on their way on behalf of their sovereigns. The goal: nothing less than the world domination. In a never-before-seen aesthetic with 3-D animations and digitally edited reenactments, this documentation shows that today's globalization had already begun in these times.
The interactive webdoc "Conquest of the Seven Seas - The Logbook" tells the multifaceted background story of the first circumnavigation. Magellan's adventurous journey is an example of how the explorers shaped a new world. In interactive chapters the user experiences the most diverse facets of the first circumnavigation.
In the strategic online game "Conquest of the Seven Seas - Hunting Drake", the player can found his own Spanish empire at sea and playfully discover the world of explorers from the perspective of a seafarer of this time. The player has to decide between life as a trader, who has to protect him- or herself against theft of his important trade goods, or the dangerous life as a buccaneer, on a hunt for other fellow players - always being wary of the alliances.
Contents
Documentary

Conquest of the Seven Seas - Documentary

Ferdinand Magellan and Francis Drake were no adventurers at all? But what did the two circumnavigators do instead? Two of today's researchers search through the archives, trying to reveal the true purpose of the missions of Magellan and Drake. They reinterpret old and new sources. The result of this…

continue reading

Interactive Webdoc

Conquest of the Seven Seas - The Logbook

Magellan's adventurous journey tells us how the explorers influenced a new image of the world. Within interactive chapters, the user experiences diverse facets of the first circumnavigation. Several historians give an varied insight on one of the most important explorations of history.

continue reading

Game

Conquest of the Seven Seas - Hunting Drake

English version coming soon...

continue reading