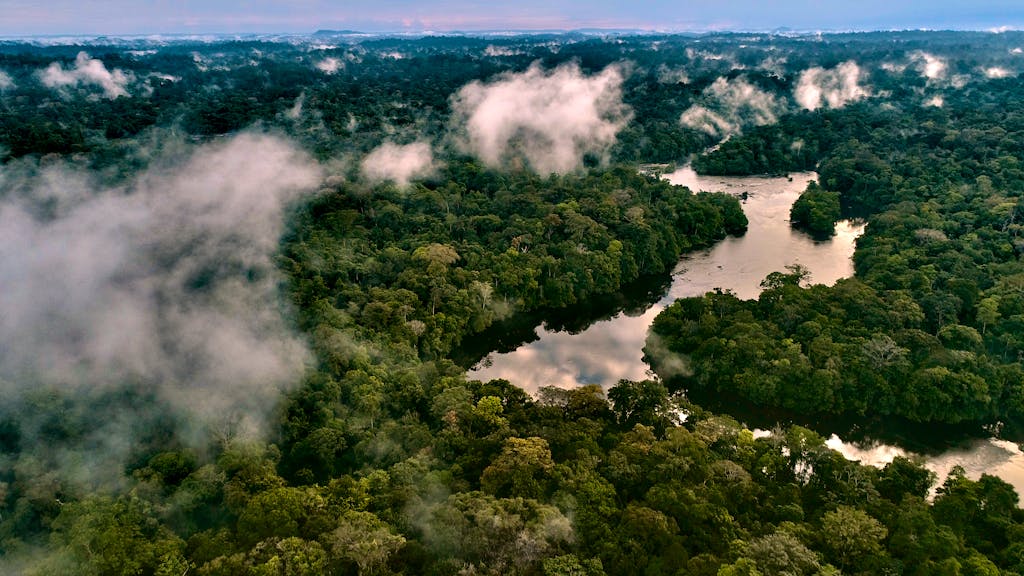 River deltas are impressive landscapes with a unique biodiversity.
The five-part TV documentary series Deltas of the World takes place on four continents and impressively shows the endangered, spectacular border areas between the mainland and the sea. From the Arctic to the tropics.
Where the films stop, the award-winning and internationally acclaimed virtual reality installation Inside Tumucumaque starts: It enables the user to closely discover the Amazon rainforest from the perspective of native animals and to slip into their role. In a sensual experience, the user gets to know, how a poison dart frog perceives its surroundings or how it feels to lurk in wait of prey as a caiman.
The virtual reality installation is flanked by "Inside Tumucumaque - a 360 degree 3D documentation". A magical sunrise on the shores of the Amazon. A river cruise through the mysterious morning mist. A spectacular flight over the majestic treetops: The 360 degree film was filmed at the original locations and takes the viewer into the real jungle of the largest rainforest reserve in the world.
Deltas of the World
D/F
2018
5 x 52 mins
+
Virtual Reality Installation Inside Tumucumaque
+
Inside Tumucumaque – a 360° 3D Documentary
Contents
Documentary

Deltas of the World

The delta regions of world's great rivers are impressive landscapes of constant change, each with its own uniquely diverse ecosystem. Often, river deltas are among a country's most fertile regions. Human communities have often adapted their own habits to match a delta's natural rhythms even as they…

continue reading

Installations and VR

Inside Tumucumaque

**Inside Tumucumaque as part of the "Deltas" project** The Virtual Reality installation takes you straight to a clearing in the middle of the Brazilian rainforest and gives visitors a unique change of perspective from human to animal: how do Black Caiman, Harpy, Vampire Bat, Poison Frog and…

continue reading
Awards
Nominee Best Documentary Experience
2018
Educational Illustrations
2018
Interface & UX Design
2018
Of the Day
2018
Illustration
2019
Digital Installation
2019
VR-/AR-Experience
2019
Digital Animation
2019
Spatial Experience - VR/AR
2019
Exhibition Experience markenbezogen - VR/AR
2019
Event Experience - VR/AR
2019
Festivals
If you want to have a look Inside Tumucumaque you can visit the
Silbersalz Festival
in Halle (Saale). The installation will be at the Moritzburg in the heart of the city from 20. - 23.6.2019.