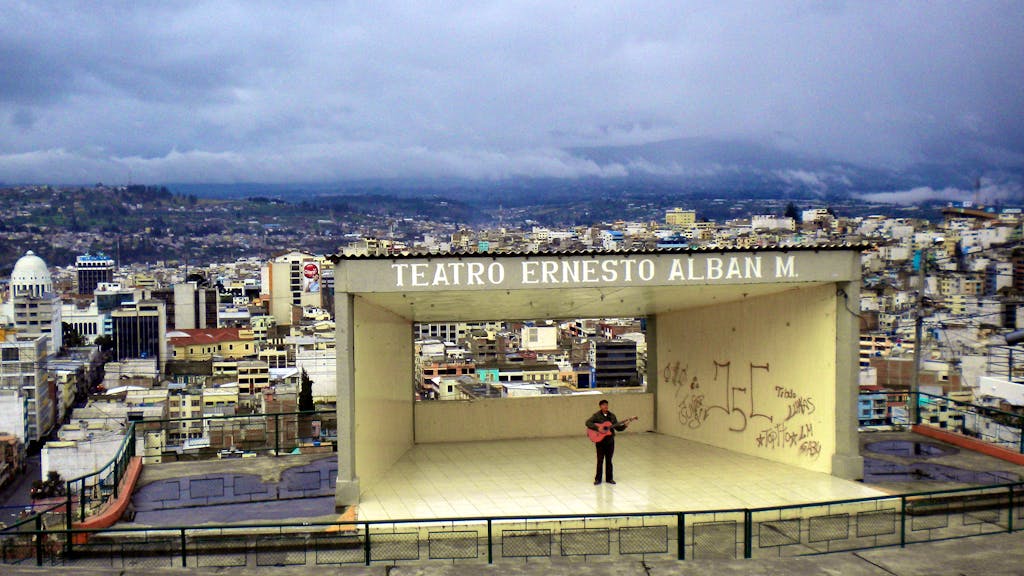 My father César thought I was going to take over his restaurant and grill in Ecuador, but I decided to pursue art instead and went to Germany.
When my father calls me from Ecuador for the first time in ten years, he tells me that his grillrestaurant "Los Pinchos de César" is bankrupt, that he is in debt to several private "loan sharks" AND the bank and that he hasn't paid the rent in over two years. After years of not speaking to each other, saving the restaurant becomes our joint project. Within a matter of seconds, the world I thought I had left far behind me in Ecuador was so close again I could almost touch it.
César's Grill tells the story of my return to Ecuador, where I, the vegetarian son, try to solve the problems of my passionately carnivorous father with ideas that might at best work out in Germany. In the course of a sprawling debate about corncobs, illuminated advertising panels and profit margins, it gradually dawns on us that our discussion is not really about the ailing family business but about us. What starts out as an absurd mission, develops to be a touching story about unfulfilled expectations, becoming an adult, responsibility, and our father-son relationship.
Buy
D/CH
2013
88 mins. and 52 mins.
Awards
Winner
2014
Special Mention
2013
Festivals
Max Ophüls Preis
Vancouver International Film Festival
Visions du Réel Nyon
Filmfest Hamburg
Ecuadorian Film Festival New York
Le mois du film documentaire
Muestra Cine Latinoamericano
Festival Cinema Latino in Montréal
Congreso Iberoamericano de la Lengua Española
Nonfiktionale
Credits
Screenplay and Direction: Darío Aguirre
Director of Photography: Santiago Oviedo
Editor: Julia Drache
In co-production with Reck Filmproduktion (Zurich) and NDR/Arte
In cooperation with Arte
Supported by FF Hamburg Schleswig Holstein, BKM, Kuratorium junger deutscher Film, Zürcher Filmstiftung, Schweizer Fernsehen